Hands-On Pump Seminar - Nov 8, 2023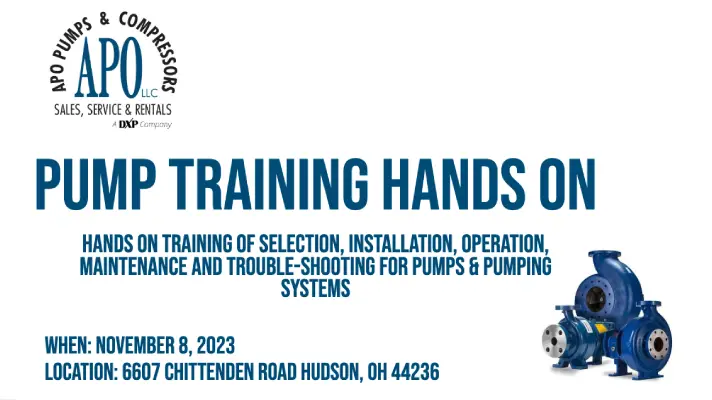 Seminar Details
When:
November 8, 2023
Location:
6607 Chittenden Road
Hudson, OH 44236
Schedule:
Check In:
8:00 AM
Lunch Provided:
12:00 Noon - 1 PM
Conclusion of Training:
4:00 PM
Presentation of Certificate:
4:30 PM
Cost:
$495
Register Now!
- While seats are still available!
About
Seminar Details: PDF Download
In the ever-evolving landscape of industrial maintenance and operations, staying at the forefront of technology and expertise is essential for professionals in a variety of roles.
The Hands-On Pump Seminar is designed with this imperative in mind, catering to a diverse audience that includes Maintenance Personnel, Planners, Schedulers, Millwrights, Managers, and powerhouse operators.
With a comprehensive focus on pumps, seals, vacuum pumps, and blowers, this seminar offers a unique opportunity to delve into the intricacies of fluid handling systems and equipment, equipping participants with the knowledge and skills necessary to enhance operational efficiency, reduce downtime, and optimize performance.
This seminar is a comprehensive educational platform that enables attendees to explore the intricate world of pumps and related systems through a hands-on and interactive approach.
Throughout the program, participants will gain valuable insights, practical techniques, and industry best practices, empowering them to become adept problem solvers and resourceful decision-makers in the realm of pump maintenance and operations.
Whether you're a seasoned professional looking to refine your skills or someone new to the field, this seminar promises to be a valuable stepping stone in your journey toward mastering the intricacies of pumps, seals, vacuum pumps, and blowers.
For Registration – Please Complete the Form Below: