About Granular Medium Filters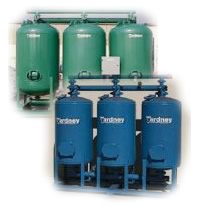 Granular medium filtration is the most effective means of removing organic and inorganic solids from water. By using a permanent filtration medium, instead of one that needs to be replaced, you can filter to 10 micron and backwash the collected solids.
By utilizing the full depth of the filter medium, you can take advantage of the filter's capacity to hold large amounts of solids and still have a low pressure drop.
PAPSCO Granular Medium Filters Feature:
Sand, garnet, antracite, greensand and carbon medias
Completely automatic, including PLC
Filtration down to 10 micron
Thorough, simple backwash
Highly efficient underdrain systems
Single and multi-tank systems for flows over 3,000 gpm
Skid-mounted designs
Special designs are available
Examples of Granular Medium Filter Applications:
Cooling tower water
Tertiary water treatment
Process water
Wastewater treatment
Groundwater treatment
Incoming water
Pre-filtration
Water reuse
Pre-reverse osmosis
For more product details or to get online assistance in choosing the right solution for your filtration application:
Request a Quote or Information:
Connect with us today and talk to a helpfull representative to get answers to your questions.