About Bag Filters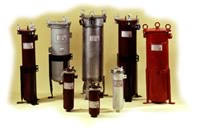 Bag filters have been around for a long time, but have not gone out of style. Many improvements in bag filter technology over the past few years have enabled this basic technology to remain one of the most popular products.
High efficiency bag filtration has evolved. Constructed of new materials and collared with sophisticated sealing systems, simple bag filters have moved beyond coarse filtration to provide near-absolute performance - 100% removal of particles equal to or greater than the bag's micron rating.
Choosing the Right Bag Filter
Choosing the right bag filter for your application is essential for improving your product, protecting your process and maintaining the trouble-free operation of your equipment. Ask a member of our team to recommend a bag filter for your specific application or try our proprietary online Filtration Wizard.
Delivered When You Need Them
We stock a wide selection of the most popular bag filters, so you get the products you need, when you need them.
PAPSCO Bag Filters Feature:
User-friendly design
Standard industry sizes, including P1 & P2
Standard and high ffficiency
Meshes and felts
Polypropylene, polyester, nylon, Teflon
Hydrocarbon-absorbing bags
Welded bags
Micron ratings from 0.5 to 1400
Metal and plastic housings
Single and multi-bag housings
ASME code stamp available
Examples of Bag Filtration Applications:
Chemicals
Water filtration
Pharmaceuticals and cosmetics
Fuels and petroleum chemicals
Coatings, paints and ink
Food and beverage
Power generation
RO pre-filtration
Resins and adhesives
Metalworking fluids
Plating solutions
Process fluids
For more product details or to get online assistance in choosing the right solution for your filtration application:
Request a Quote or Information:
Connect with us today and talk to a helpfull representative to get answers to your questions.