About Treatment Systems
Our outstanding reputation was built by working one-on-one with our customers. We will work with you to provide an innovative, custom-designed treatment system specific to your process requirements. Our staff can provide assistance with system design, installation, start-up and operation.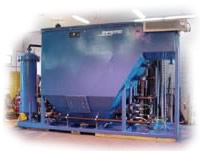 Our capabilities include systems for sedimentation, flotation, separation and dewatering. These systems can incorporate numerous technologies into a single skid-mounted system.
Choosing the Right Wastewater Treatment System Doesn't Have to Be Confusing
Let our expertise guide you in your treatment system decision. We have worked closely with our customers for over 25 years and have learned which equipment and systems work best in the industry's toughest applications.
We'll tackle your unique problems so your process operates efficiently and effectively - that's the PAPSCO way.
PAPSCO Treatment Systems Feature:
Clarifiers and DAFs
Oil/Water separators
Granular media filters
Pressure filters
Membrane systems
PLC controlled, remote monitoring
Manual to fully-automatic operation
Batch or flow-through design
Examples of Treatment System Applications:
Coolant recycling systems
Wastewater treatment
Wastewater recycling/reuse of solids and liquids
Industrial pre-treatment
Physical/Chemical treatments for precipitation, separation and metals dewatering
BOD, COD and organic reduction/removal
Treatment for discharge to POTW and NPDES
Groundwater treatment
For more product details or to get online assistance in choosing the right solution for your filtration application:
Request a Quote or Information:
Connect with us today and talk to a helpfull representative to get answers to your questions.