About Cartridge Filters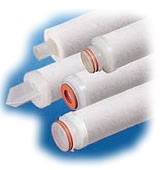 Cartridge filtration is used throughout the industry for maintaining and improving the cleanliness of already clean liquids. Cartridge filters provide predictable, reproducible performance.
They are available in a wide range of styles and construction materials that feature high particle collection efficiency and a relatively low capacity to hold solids.
Wound and pleated cartridge filters effectively and reliably remove small amounts of fine particles from liquids.
Put Our Years of Experience to Work for You
We can assist you in choosing and implementing the right filter for your application. We offer a large selection of cartridge filters and filter housings, and competitive cross-reference all major cartridge brands.
PAPSCO Liquid Filters Feature:
Cotton, polypropylene, pleated polypro, glass and Teflon
Polyethersulfone membranes
Depth, including wound and melt blown
Pleated and cylindical metal
Water- and hydrocarbon-absorbing
Absolute and nominal ratings
Metal and plastic housings, Simplex and Duplex
Examples of Small Micron Filtration Applications:
Chemicals
Water filtration
Pharmaceuticals and cosmetics
Fuels & petroleum chemicals
Coatings, paints and ink
Food and beverage
Power generation
RO pre-filtration
Resins and adhesives
Photographic chemicals
Magnetic coatings
Metalworking fluids
Plating solutions
Process fluids
For more product details or to get online assistance in choosing the right solution for your filtration application:
Request a Quote or Information:
Connect with us today and talk to a helpfull representative to get answers to your questions.