About Self-Cleaning Filters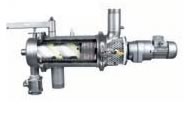 As a premier provider of filtering products, we are continually seeking ways to bring new advances in filtration to our customers.
Through technology, many manual filters now have automatic counterparts. Reduced maintenance and 24-hour, unattended operation are just two of the many benefits of self-cleaning filters.
Take Advantage of PAPSCO's Experience
Ask us how automatic filters can reduce labor, boost productivity, reduce downtime and offer continual protection for your valuable equipment. Self-cleaning filters may be the perfect choice for your organization.
PAPSCO Self-Cleaning Filters Feature:
Removal to 10 microns
Solids removed regardless of specific gravity
Perforated, mesh or wedgewire screen elements
High temperature designs
Viscosity up to 10,000 cps
Examples of Self-Cleaning Filter Applications:
Process water
Cooling water
Chemicals
Pharmaceuticals and cosmetics
Fuels and petroleum chemicals
Coatings, paints and ink
RO pre-filtration
Resins and adhesives
Metalworking fluids
Process fluids
Coolants and oils
Paints, varnishes, coatings and polymers
Chemicals
Wastewater
For more product details or to get online assistance in choosing the right solution for your filtration application:
Request a Quote or Information:
Connect with us today and talk to a helpfull representative to get answers to your questions.