About Pressure Filters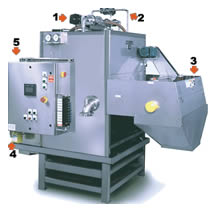 Pressure filters rely on a porous media to retain solids from high concentration slurries and use the feed pressure of the pump to "squeeze" the free water from the resulting sludge cake. The cloth retains the solids and the cake removes more and finer solids, resulting in a better, more efficient filter.
These filters come in a variety of configurations including flat bed, plate and frame, recessed plate, pressure leaf and tubular back-pulse designs. They are used for solids removal, solids recovery, fluid recycling and solids dewatering.
Pressure filters clarify process fluids, clean wastewater and reduce the cost of hauling fluids or wet slurries off-site for disposal.
PAPSCO Pressure Filters Features:
Filtration down to 0.5 Micron
High filtrate quality
Variety of filter medias available
Gasketed or non-gasketed plates
Full range of automation and controls
Automatic pump controls
Cake washing features
Up to 95% solids cake dryness
Engineered solutions
Turnkey systems, including filter aid and bodyfeed
Examples of Pressure Filters Applications:
Grinding and honing fluid recycling
Wastewater treatment
Metal hydroxides dewatering
Dyes and pigments
Zinc phosphate sludge
Metals recovery
Clays and ceramics dewatering
Chemical processing
Rolling mill waste
Beverage clarification
Wine and juice solids filtration
Waste sludge dewatering
For more product details or to get online assistance in choosing the right solution for your filtration application:
Request a Quote or Information:
Connect with us today and talk to a helpfull representative to get answers to your questions.