About Screens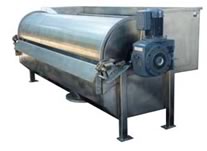 We supply rotating and stationary screens for automatic and efficient removal of coarse solids process streams and wastewater effluent. Screens can be used anywhere in your plant, but are most often used as a prescreen to further wastewater treatment.
Screens Provide Great Value...
Screens provide great value in their ability to handle a wide range of flowrates and solids loadings. They work well on granular, fibrous, greasy or sticky solids. We also provide equipment for further dewatering of the screened solids.
The right screen can reduce water usage, improve the efficiency of final wastewater treatment, reduce maintenance, recover products, reduce hauling costs and improve processes. Contact us for assistance with your screening application.
PAPSCO Screens Feature:
Pressure and gravity feed
Internally- and externally-fed screens
Self-cleaning
316 SS and other metals
0.1" to 10 micron screen openings
Perforated, Mesh and wedgewire
Thickens solids up to 15%
High solids loading and high flow rates
Examples of Screen Applications:
Process water
Wastewater
Pulp and paper mill effluent
Wood room effluent
Stock thickening
Broke thickening
Rejects thickening Saveall
Poultry plant wash water
Primary feather and offal wastewater
Peeler effluent
Solids recovery
Coolants
For more product details or to get online assistance in choosing the right solution for your filtration application:
Request a Quote or Information:
Connect with us today and talk to a helpfull representative to get answers to your questions.