About Coolant Filtration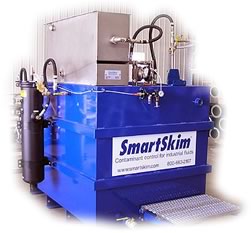 Most metalworking plants use some type of coolant for machining, grinding, polishing and other production operations.
These fluids perform many valuable functions, including heat removal, lubrication and removal of chips and swarf produced during processing.
In manufacturing, it's vital to keep your coolant free of solids and tramp oil. After all, clean coolant provides longer tool life, better part finishes, higher production rates, lower coolant costs, and increased worker productivity.
We offer a vast array of products for coolant filtration, recovery, and purification. Our systems improve part quality, reduce maintenance, produce less waste and safeguard worker health. We will work with you to deliver the best quality coolant at an economical cost.
PAPSCO Coolant Filtration Systems Feature:
Reduce New Coolant Purchases
Minimize Coolant Disposal Costs
Protect Workers Health and Safety
Simple and Efficient Operation
Unattended Operation
Extend Bath Life
Remove Tramp Oil, Solids and Bacteria
Examples of Coolant Filtration Applications:
Machine Coolant Sumps
Central Coolant Systems
Metal Grinding
Metal Polishing
Quench Fluids
Coolant Recycling
For more product details or to get online assistance in choosing the right solution for your filtration application:
Request a Quote or Information:
Connect with us today and talk to a helpfull representative to get answers to your questions.