About Water Treatment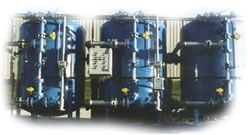 Water quality plays a key role in many industries. Industries, and even companies within each industry, have different water quality standards based on different product and application requirements. Sometimes, incoming water quality is not high enough for boiler feed, parts rinsing, chemistry formulation and coolant make-up requirements.
Many products and technologies are available to increase water quality for these uses. But which products achieve the highest water quality and what is the cost-to-benefit ratio of each?
We offer a line of superior water treatment equipment - we can provide the water quality that you require at the lowest operating cost.
We understand the problems you experience, so we strive to develop the best solutions for your business. We know the critical role that water quality plays in industry, and constantly look for new technologies to improve it while lowering operating costs.
Our current product line is shown here. However, if you don't see the product you need, contact us for the most up-to-date technology.
PAPSCO Water Treatment Systems Feature:
Water reuse systems
Zero Discharge
Hardness Removal
Cooling Tower Water Conditioning
Single Piece to skid mounted systems
High Flows, Low Pressure Drop
Filtration Down to Below 1 micron
Manual and Self-Cleaning Operation
Examples of Water Treatment Applications:
Pretreatment for Improved Water Quality
Boiler Feed
Water Recycling
RO Pretreatment
Parts Rinse Water
Akaline Cleaner Bath Make-up
Coolant Make-up
Plant Process Water
Spray Water
For more product details or to get online assistance in choosing the right solution for your filtration application:
Request a Quote or Information:
Connect with us today and talk to a helpfull representative to get answers to your questions.