About Strainers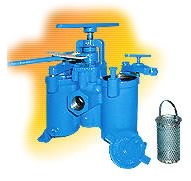 A pipeline strainer mechanically removes solids from a flowing fluid using a perforated, mesh or wedgewire straining element.
The most common range for strainer particle retention is 1/2" to 40 microns.Strainers are used in pipelines to protect downstream mechanical equipment (i.e. condensers, heat exchangers, pumps, compressors, turbines, valves, sprinkler heads and steam traps) from the detrimental effects of sediment, rust, pipe scale, and other debris.
While strainers are a relatively low-cost item, they provide invaluable protection when properly specified.
Partnering with the World's Leading Strainer Manufacturer
PAPSCO and Eaton ( formerly Hayward ) provide expert guidance in strainer applications and, therefore, have earned the confidence of thousands of users.
We have strainers for nearly any imaginable application, and if we don't have it in stock, Eaton will fabricate it from any weldable metal material for any flow, temperature or pressure combination.Eaton has truly earned recognition as "The Strainer Company" with over 75 years of experience in the industry.
Hayward was purchased by Eaton Corporation in 2005.
PAPSCO Strainers Feature:
Large particle separation
1/2" to 36" pipelines
Cast iron, bronze, C.S., S.S., titanium and hastalloy
PVC, CPVC and Polypro
1/2" perforated to 400 mesh
Automatic, Duplex, Simplex
Y-strainers, fabricated
Steam jacketed
Fluoropolymer lined
Examples of Strainer Applications:
Water handling
Pharmaceuticals and cosmetics
Petroleum
Paint, ink and latex
Food processing
Power generation
Tank cars and trucks
Pulp and paper
Process fluids
For more product details or to get online assistance in choosing the right solution for your filtration application:
Request a Quote or Information:
Connect with us today and talk to a helpfull representative to get answers to your questions.