About Membrane Systems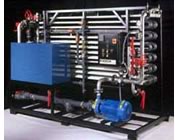 As water becomes more expensive and discharge limits get tighter, membrane systems are being used more frequently for wastewater treatment and recycle/reuse applications throughout industrial plants. Membranes offer a solution with low operating costs and consistent, repeatable results.
Simple to operate and easy to maintain, membrane systems offer years of trouble-free filtration. They can provide your company with significantly reduced operating costs, downtime, waste handling and rework costs.
PAPSCO's subsidiary, ESG can also provide maintenance, repair and cleaning services for your membrane systems.
Which Membrane Filtration System Is Right for You?
Our 20 years of field membrane system installation and operation expertise will allow us to design the right membrane system for your application and requirements.
View the flow chart to determine the right membrane system for your application.
PAPSCO Membrane Systems Feature:
Crossflow filtration
Microfiltration and ultrafiltration
Nanofiltration and reverse osmosis
Configurations from hollow fiber to 1" tubular
Automatic, unattended operation
Total system solutions, including pre- and post-treatment equipment
Skid-mounted
PLC custom controls
All temperatures & pH ranges
Special designs available
Examples of Membrane System Applications:
Oily wastewater treatment
Alkaline cleaner recycling
Solids and colloidal removal
Acid purification
Latex
Metal hydroxides
Flexographic ink wastewater
Spent machine coolant
Laundry wastewater
Ultra-pure water production
Dissolved metals removal
Final treatment prior to discharge
For more product details or to get online assistance in choosing the right solution for your filtration application:
Request a Quote or Information:
Connect with us today and talk to a helpfull representative to get answers to your questions.