About Air-Gas Filters & Separators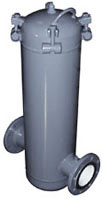 We offer filters and separators for the separation and purification of air and gas streams. These products filter intake air for compressors, blowers, turbines and other air and gas handling equipment. They are also used in pressurized air and gas lines to protect meters and other downstream equipment.
These filters are designed to remove solids, particulates, gels, and aerosals. We also offer a filter element design that removes solid particulate and fluids from pressurized air and gas lines within a single housing.
PAPSCO Air-Gas Filters and Separators Feature:
Standard and engineered designs
ASME code stamped vessels
Custom-designed vessels available
Centrifugal, vane-type separators
Separators with no replaceable elements required
Liquid droplet removal to 0.3 micron
Liquid slug and aerosol removal
Examples of Filter and Separator Applications:
Compressed air systems
Plant air intakes
Air exhaust lines
Plant gases and air
Processed gas
Natural gas transmission lines
For more product details or to get online assistance in choosing the right solution for your filtration application:
Request a Quote or Information:
Connect with us today and talk to a helpfull representative to get answers to your questions.