About Centrifuges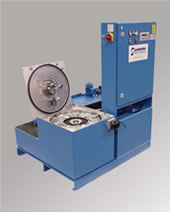 PAPSCO works with Sanborn Technologies, a leader in 2 phase and 3 phase separation using manual and automatic centrifuges. A variety of materials of construction allow for compatibility in a wide variety of process applications.
Why Dispose of Expensive Process Fluids when you can Recyle them
Are you disposing of valuable process fluids? Is your chemical supplier constantly increasing the price of your already expensive machine oil or coolant? Let our engineering team recommend the best centrifuge, stationary or portable, that will provide the most efficient process improvement.
Sanborn Centrifuges include:
2 Phase separation
3 Phase separation
Manually Cleaned
Automatic Discharge
Portable Systems
Complete Systems with Separation and Purification
Examples of Applications include:
Coolant Recycling
Wash Water Recycling
Grinding and Honing Operations
Process Fluid Recycling
Solids Recovery
For more product details or to get online assistance in choosing the right solution for your filtration application:
Request a Quote or Information:
Connect with us today and talk to a helpfull representative to get answers to your questions.