O-AIR 2000, 3000, & 6000 are built on a standard frame, featuring a wide arrangement of air flow components, designed for easy, low-cost installation and operation.
The MSG TURBO-AIR Lines are designed with a built-in Aftercooler that eliminates the need for a separate pipeline type cooler, and a packaged check valve for faster installation and easier maintenance.
The MSG TURBO-AIR provides some of the lowest total lifecycle costs of any compressor, including dry screw, variable speed drive (VSD) screw and other centrifugal compressors.
Compared to other machines of similar capacity, TURBO-AIR compressors are one of the most efficient oil-free compressors at full load, part load and no load.
The power savings delivered can significantly speed up the payback on your initial investment, and the savings continue to build the more you use the TURBO-AIR.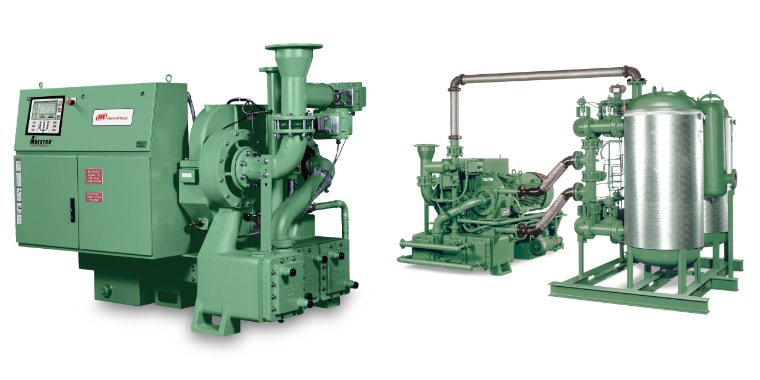 Features
Impellers: Five-axis-milled impellers designed and manufactured with advanced techniques and methods
Vaned Diffusers: Optimized vane design and placement for increased efficiency
Lubrication System: Self-contained, low-pressure lubrication system
Intercoolers/Aftercooler: Water-in-tube intercooler and Aftercooler bundles slide out for easy inspection and cleaning
Advanced Pinion Bearing Design: Designed for extended life and operation at any operational load.
Seals: Designed with non-contacting and non-weari ng labyrinth air and oil seals. No buffer air required for oil-free air. Do not require periodic replacement like carbon ring seals.
Horizontally Spilt Gearbox: Allows for easy access when the jobsite maintenance policy requires periodic inspection.
Variable Inlet Guide Vanes: Variable inlet guide vanes can offer power savings of up to 9% when operating in turndown. Inlet guide vanes impart a whirling motion to the inlet air flow in the same direction as the impeller operation, reducing the work input. Net power savings can be realized at reduced flow or on days colder than the design temperature.
For assistance in choosing the best air compressor equipment, parts, or pumps for your specific requirements, please contact us at any of our locations.